The Project
The Sparwood Skate Park is fully designed and ready for construction once full funding is in place. The park will just under 10,000 sq ft and utilize 6,319 meters of rebar, over 9180 cubic feet of concrete and cost $563,900 to construct. Once complete the park will be almost 190 ft long and 60 feet in width at its widest point.
The park itself will contain 18 independent features including a 3' quarter pipe, open bowl, stair sets, rails, slappy features, ledges, bars, up gaps and hubbas, bank hips and pump bumps. For a full overview of the design check out the links below and watch the design video.
---
Concept Model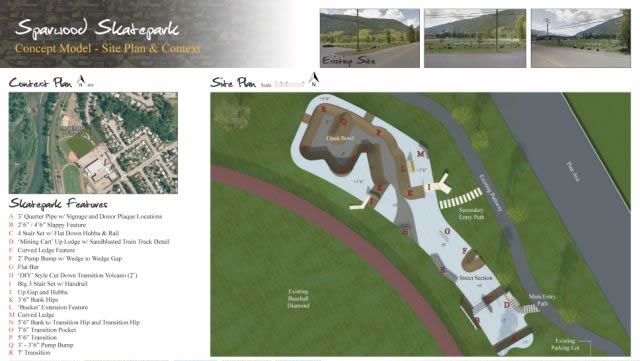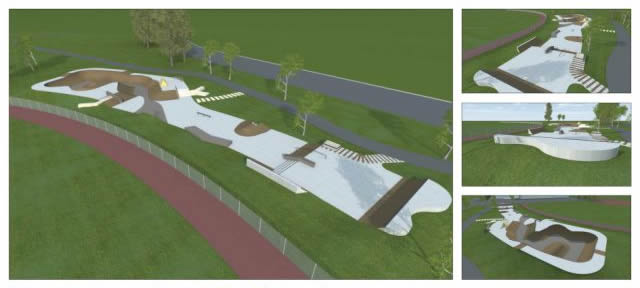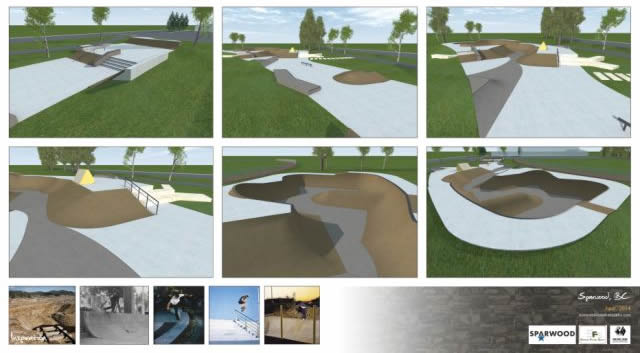 ---
Timeline
Spring 2012, Sparwood undertakes a master grounds plan for the Leisure Centre. Support for the development of a new concrete skate park was very evident from all age groups and parents.
September 2012, Sparwood Futures Society asks for suggestions on community projects and decides to undertake the development of a Concrete Skate Park.
October 2012, Sparwood Future Society dedicates $50,000 to the development of the skate park.
November 2013, Sparwood Futures Society posts RFP for the preliminary design and engineering for a new skate park in Sparwood.
December 2013– SFS awarded the contract for conceptual design and public consultation – to New Line.
December 2013, Newline Skateparks is awarded the contract to undertake a community consultation process for the design of the skate park.
February 13, 2014 – 1st Public meeting on conceptual Design.
February 2014, Newline Skateparks hosts it first community planning session for the development of a new 10,000 sqft skate park.
March 2014 – Geotechnical Site Investigation approved.
April 15, 2015 – 2nd Public meeting on conceptual Design.
April 2014, Newline Skateparks seeks input on the initial designs for the skate park.
June 2014 – $11,500 – CBT Community Initiatives, approved.
July 2014 – Proceed with Final Design - Approved
August 2014 – Site Survey Completed.
January 2015 - Sparwood Council supports, in principle, the development of a new skate park proposed by the Sparwood Futures Society and dedicates land on the Leisure Centre Grounds to construct the park.
December 2014, District of Sparwood Council approves the allocation of land at the leisure centre for the construction of a new skate park and confirms the Sparwood would undertake the oversight of the construction process once funding has been secured.
January 2015 – Video Fly through completed – Posted on Youtube
February 3, 2015 – Public Open house at Causeway Bay – Video and Design Review
February 2015, Sparwood Futures Society unveils the final designs for the skatepark to the community.
March 2015 - Design 100% complete (Subject to final reviews)
March 2015, the first meeting of the Skateboard Park Fundraising committee is held.
June 2015, Skatepark Fundraising Committee attends Cole Miner Days Parade and set up a fundraising dunk tank in support of the new park.
June 2015, District of Sparwood commits $75,000 towards the construction of the skate park.
June 2015, Columbia Basin Trust confirms funding support in principle for the development of the skate park for $129,958 if the Canada 150 grant application is successful.
June 2015, Skate Park Fundraising Committee applies for Canada 150 Grant in the amount of $250,000.
---
Fundraising
To make this happen we will need everyone's support. So far the Sparwood Futures Society has dedicated $77,000 to the project and compelted the first two stages of the project. Community consultation and the design and engineering of the project. This initial support allows the park to be 'shovel ready'. Which means as soon as we have the needed funds work can begin on the construction of the park.
The District of Sparwood has confirmed the availability of land located on the Leisure Centre grounds which means no purchase of land is required to construct the park. Sparwood has also committed $75,000 towards the construction of the park which means we have already raised $152,000 towards the project.
The Sparwood Skate Park Committees is now looking for grant opportunities and donations from the community to raise the remaining $411,900 needed to build the park.
Make a Donation
Every penny helps. Donations are being accepted online or inperson at the leisure centre. Help make this park a reality and be a part of a lasting legacy for our community by making a donation today.
Sponsorship
Without the support of businesses and individuals in our community this project can't happen. We understand that our community businesses and leaders continue to support events, activities and projects every year and we hope you will join us once again by supporting the development of this project that will benefit generations of youth in our community.
We'll be recognizing all of our sponsors and supporters with permanent bronze plaques installed into the skate park. For more information on sponsorship opportunities please contact Nicole Latka at sparwoodskatepark@gmail.com or leave a message on Facebook at: www.facebook.com/SparwoodSkatepark
In Kind Sponsorship
In-kind contributions are definitely welcome and will be recognized in the same manner as our cash contributors. There is an estimated $170,000 worth of in-kind contributions that will help make this project a reality. Donations of rebar, concrete, road base and pit run gravel, temporary fencing, excavator and skid steers, compactors, trucking, topsoil, portable washrooms and accommodation are now being accepted. For specific details regarding in-kind contributions contact the Duane Lawrence at 250.425.6821.
---
About The Sparwood Skatepark Committee
The Sparwood Skatepark Committee is a group of skateboarders, BMXers, scooter riders, inline skaters, community leaders and parents who are driven by a mission to improve our community through the development of a safe and inviting modern concrete Skatepark for all ability levels and backgrounds of children, youth and the young at heart.
Why A New Skatepark
The size and skill level of our skateboarding/BMX community has outgrown our existing facility (which has reached the end of it's lifespan and is no longer reflective of modern design and construction standards). Not having a suitable facility forces a large population of our children and youth who desire to participate in these activities to seek unsanctioned and often dangerous terrain in public spaces throughout Town (ie. downtown streets, parking lots, business fronts, etc) or travel to other communities in the area who have chosen to create modern skateparks. Learning from our neighbours throughout British Columbia and across North America, we know that skateparks make families with children, youth and adults that participate in skateboarding, BMX, scooter riding and inline skating feel valued, appreciated and more connected to their communities. This ultimately leads to healthier families who remain invested in their region! The construction of a first class modern skatepark will be a legacy for our community and be a place our youth will be proud to use and enjoy.
Did you know....
Skateparks are not just for skateboards. Today children, youth and adults bring inline skates, scooters, BMX bikes and yes, skateboards to local skateparks.
Modern Skatepark designs ensure the park can be accessed safely by all levels and abilities of users and can provide a challenging environment for everyone.
There are ~10 Million Skateboarders in North America and only ~4,000 skateparks. In the last handful of years, the smaller communities of Nelson, Taber, Peachland, Osoyoos, Mackenzie, Chetwynd, and Tumbler River have all developed custom concrete skateparks.
Skateparks encourage youth to become stewards of their community by giving them a place to explore and call their own.
Skateparks create increased tourism and economic activity by attracting a growing population of youth and families who travel specifically to experience the emerging network of unique skateparks across Western Canada. Youth from the Crowsnest pass, Elkford and Sparwood currently commute to Fernie so that they can use the Skatepark.
Skateparks help reduce youth inactivity, crime, drug use and nuisance behaviour by providing 'at risk youth' with an appealing, visible, environment that encourages athletic, psychological and social improvement. During the site selection process our youth overwhelmingly wanted the park to be placed in a location of high visibility so that they could be seen and the park would be well respected by all.
---